A Beginner's Guide to Tent Camping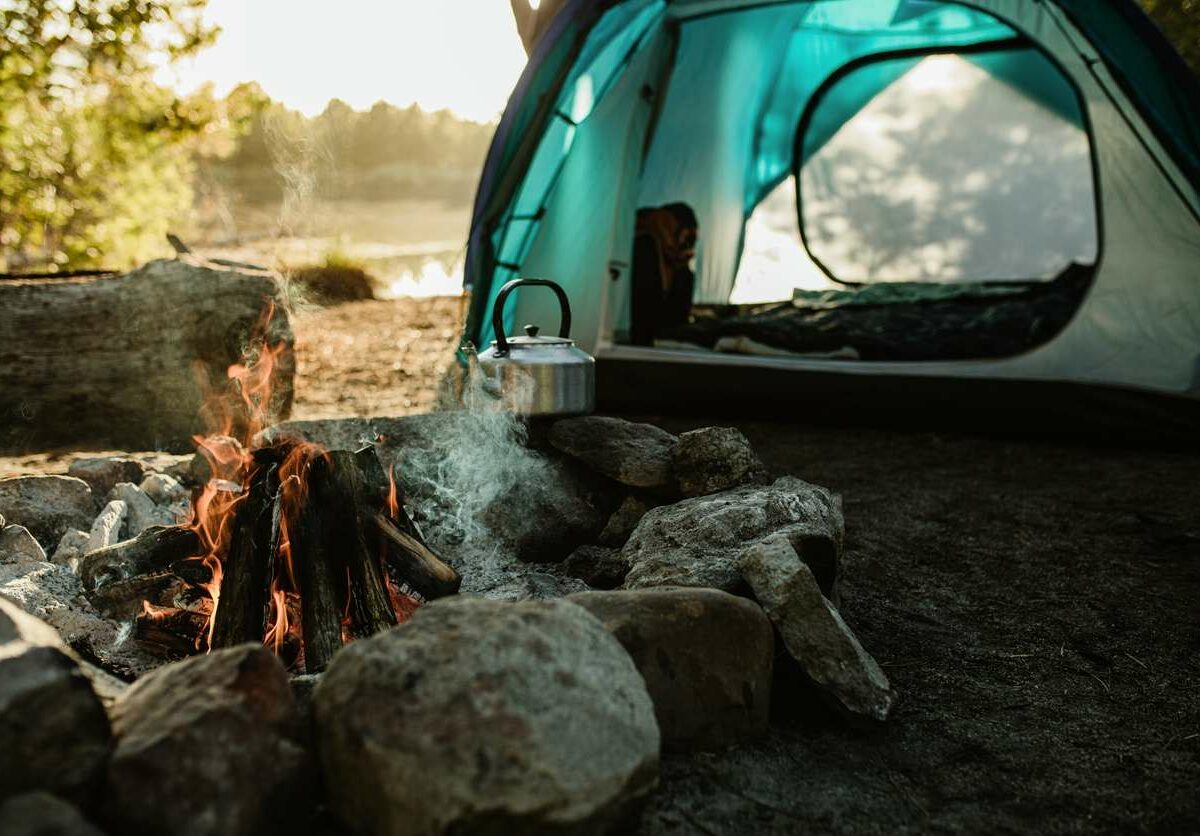 Tent camping—the most classic style of camping there is. Just you, your pack, your tent, and the world around you. It's the least complicated and most affordable style of camping, and it gives you perhaps the most immersive outdoor experience possible.
As a camping beginner, tent camping is more than likely to be the way you dip your toes into this widely beloved hobby. It could be just the start of a future filled with an RV and exciting road trips, or it could become your favorite way to camp for years to come.
Here at Rjourney, we love welcoming beginners and experienced campers alike to our grounds. To help you best enjoy your time, we're more than happy to give you some tips for tent camping.
Assemble Your Camping Starter Kit
There are many items you can bring with you on your camping trip to make the experience more comfortable, but you should certainly prioritize the necessities. In your camp starter kit, first begin by gathering the essentials, then see what space you have leftover for additional goods.
Shelter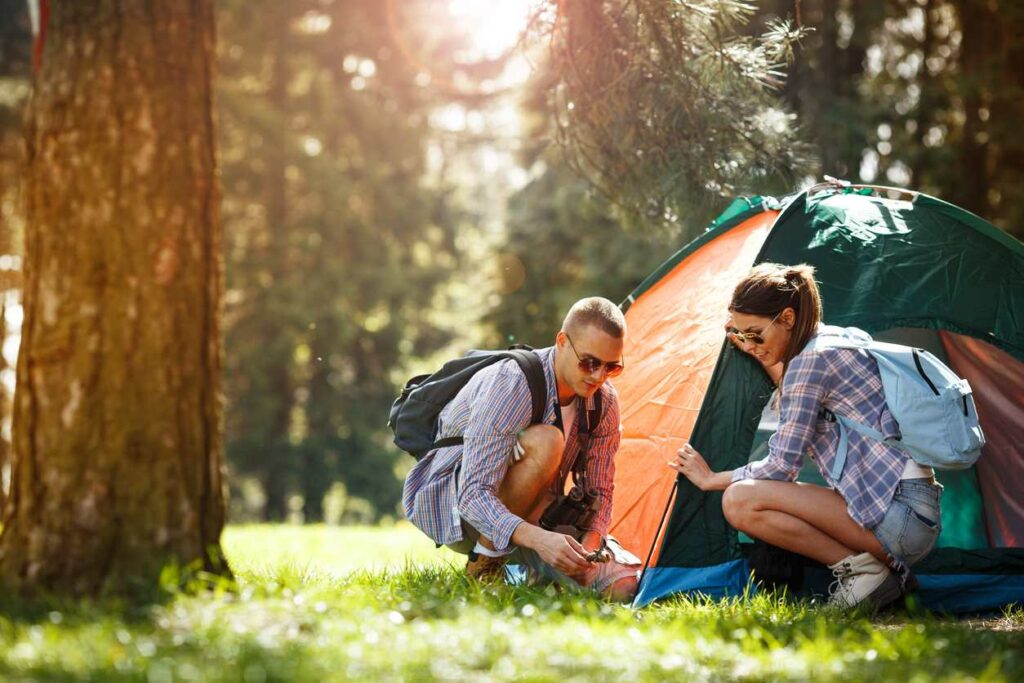 One of the most important parts of tent camping is, of course, the tent. As a beginner, you might be wondering, "how much is a tent going to cost?"
Size and quality are going to have the greatest impact on how much a tent costs. A good tent that is water-resistant, sturdy, and a comfortable size, such as a four-person tent, can be purchased for under $150.
You'll also need a sleeping bag, additional blankets, backup stakes for your tent, and a pillow. 
Food and Water
Burgers and hot dogs are the ultimate camping foods, right alongside those scrumptious s'mores. Trail mix has such a name for a reason.
When camping, you want to find the right blend of practical and nutritious foods to eat so you have enough energy to enjoy yourself. Reach for foods that are high in protein and carbohydrates, including eggs, rice, pasta, bread, potatoes, various meats, and nuts.
Also, bring lots of water. It may be tempting to pack sodas and other tasty beverages, but time under the sun can quickly dehydrate you without you realizing it.
Furthermore, always pack additional provisions, just in case of an emergency. Bring more than you think you'll need, and also pack proper supplies for cleaning and storing food after meals. Trash bags and airtight containers will be essential for keeping hungry wildlife away from your campsite, reducing the likelihood of a surprise animal encounter.
Personal Care
In addition to food, water, and shelter, packing some other items can make your tent camping experience more comfortable. You'll want backup clothing along with what you bring to cover your full trip. Include an extra pair of shoes as well.
Don't skimp on the sun and bug protection. We also recommend bringing travel-size items of your hygiene products for some camping toiletries, including toothpaste, soap, and deodorant.
Safety and Tools
The wilderness is unpredictable. You're at the whims of the weather, surrounded by wildlife, and are on different terrain than what you're used to. There are many ways things can go wrong, but being prepared will make any potential mishaps easier to handle.
To do so, bring along the right equipment. Always pack a flashlight, a first aid kit, a whistle, a map of the area, and even bear spray if you're camping in an area known for large predators. You should also pack tools such as rope, a hammer, a knife, and a saw.
Furthermore, when planning your camping trip, always make note of the nearest emergency resources. If anything happens, you won't have to scramble while you're already in a panic. Also communicate with other people in your life about your plans. Tell family, friends, and trusted coworkers that you'll be gone, and make sure they know when you're expected to return. Should something happen to you, they can contact authorities on your behalf.
Design Your Ultimate Camping Setup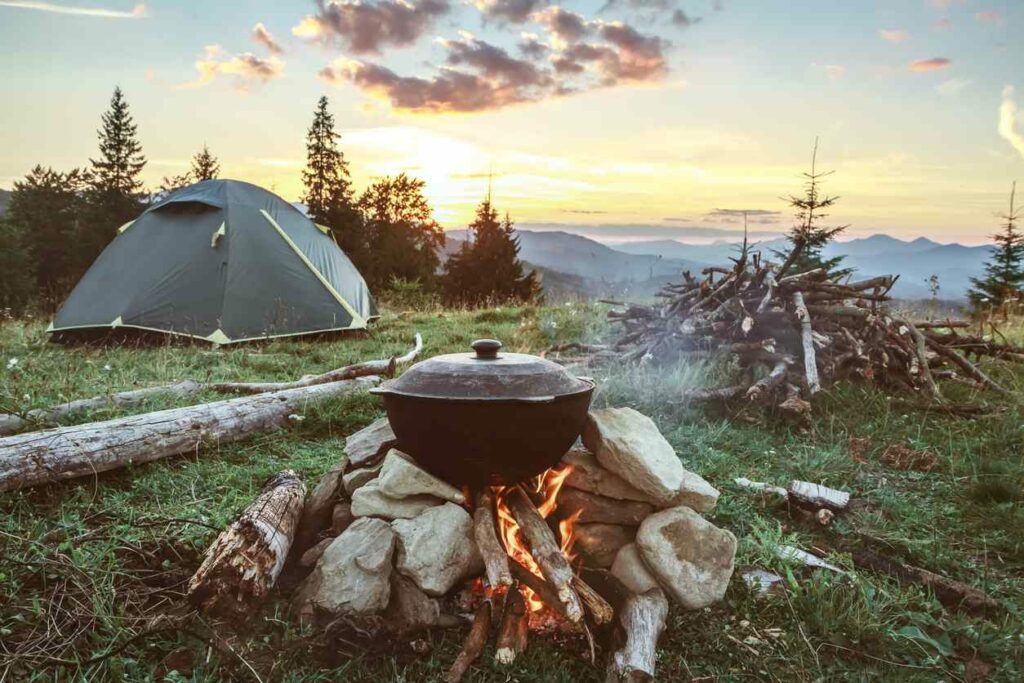 With the essentials covered, you can start to add some extras in order to create your personalized ultimate camping setup. If you love to cook over an open fire, consider adding a grill grate to your kit or a couple of pots and pans. Invest in a high-quality cooler and bring along fresh ingredients instead of prepackaged snacks and sandwiches.
Lake lovers might want to purchase a small boat, kayak, or canoe to bring along for camping trips. Fishing gear may also be a must-have for your time spent outdoors. If sleeping on solid ground doesn't appeal to you, you might prefer to bring a collapsible camping cot or an inflatable airbed for better rest at night.
The possibilities are endless! Take some time to decide what will make your camping trip the best it can be.
Brainstorm Your Dream Campsite Ideas
When you have a tent and other necessities ready to go in your camping starter kit, the options for travel suddenly open up for you. While we don't recommend you head right to the mountains as a beginner, you can get excited about all the places you can explore and start making a bucket list.
Where is it you most want to visit? Is it the beach? The desert? A national park? Your local lake? Campsites are everywhere, and when you're tent camping, you can usually find ones with incredibly affordable rates.
Choose Your New Favorite Campsite at Rjourney
If you're looking for safe, clean, high-quality campgrounds near some of your favorite destinations, look no further than Rjourney RV resorts.
We have many great locations and camping amenities to enrich your camping experience even more. Find campgrounds with showers, laundry rooms, pet-friendly areas, and more by looking at an Rjourney resort for your next adventure.
Our resorts offer tent camping spaces, RV campsites, and cabin rentals, enabling you to find the perfect way to stay and enjoy the outdoors.
More From