RV Parks, Cabins & Campgrounds in Pennsylvania
View On Map
Filter by
Site Types
All Sites

2

RV

2

Lodging

2

Parking

2

Tent

1

Cabana

1

Golf Cart

1
Park Amenities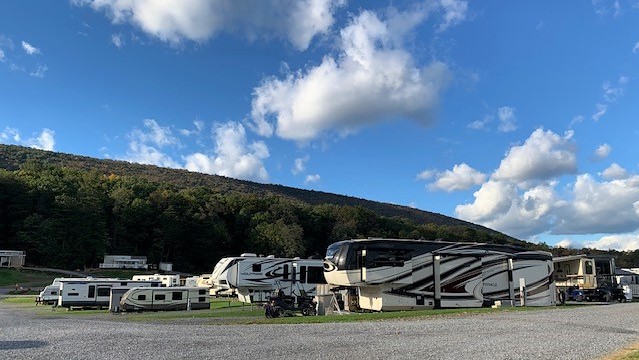 Starting at
$52.59

/ night
RV Resort Parks in Pennsylvania
With historic sites as old as the country itself and the beautiful sites of the Allegheny Mountains, Pennsylvania has something for everyone. You could walk colonial-era streets in Philadelphia, relax on the shores of lake Erie, or visit an art museum in Pittsburgh to take in some culture. When you visit Pennsylvania, Rjourney's RV resorts are a great place to stay. From an Rjourney campground, you can resupply at our convenience stores or enjoy some of the activities hosted by our facilities. Choose Rjourney for your next Pennsylvania adventure.
Types of Campsites in Pennsylvania
Our Rjourney campgrounds in Pennsylvania feature a number of different options for your stay. All of our campgrounds feature multiple styles of RV parking with plenty of full hookup options. We also feature more traditional campsites where you can pitch a tent and relax by the fireside. If you'd prefer not to bring your own lodgings or simply don't have any of your own, you can rent one of our many cabins designed for small parties and large. Whatever way you want to stay, Rjourney has an option for you.
Things To Do in Pennsylvania
With hiking trails through Trough State Forest and Bald Eagle State Forest as well as Penn's Cavern and the Allegheny Mountains, Pennsylvania has a lot to offer the intrepid traveler. If you're less of an outdoorsman, Clyde Peeling's Reptile Zoo and Castle Halloween Museum are a couple more indoor attractions. Whatever travel plans you have in store, Rjourney campgrounds give you plenty of flexibility for your travels.
Pennsylvania Attractions Near James Creek
When you stay at our James Creek RV campground, you'll be right in the heart of Pennsylvania's wilder areas. If you're a fisherman, Raystown Lake has some excellent fishing spots and is just a few miles down Old Plank Road. If you're more of a hiker than a fisherman, Trough Creek State Park has a number of hiking trails and scenic sites to take in. Interested in racing? Hesston Speedway is less than 10 miles away. You could also visit Lincoln Caverns which is under a half-hour away in nearby Huntingdon.
Pennsylvania Attractions Near Northumberland
Although we offer quite a few fun activities at Splash Magic RV Resort, there are many other exciting things to do in the area. Knoebels Amusement Resort, the largest free amusement park in the United States, is only a 30-minute drive away. For baseball fans, the Little League World Series Complex and Museum are 40 minutes up U.S. Route 15. You could also take a ride on the Hiawatha Paddlewheel Riverboat and experience the beauty of the Susquehanna River in a unique way.
Reserve Your Pennsylvania Campsite With Rjourney Today
Whether you'd rather relax and take in natural beauty or enjoy some human-made thrills, Rjourney RV Resorts will help make your next Pennsylvania adventure an unforgettable one. We offer short-term and long-term stays at our resorts, so you have the flexibility to work around your vacation plans. Ready for your next adventure? Book your stay with Rjourney.

Sorry no units matched your search criteria.