RV Parks, Cabins & Campgrounds in Colorado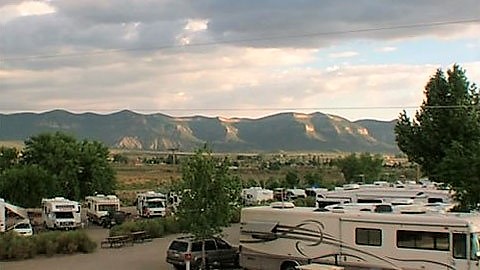 Cortez RV Resort in Cortez CO
20-Amp
30-Amp
50-Amp
Basketball court
Bathrooms
Cabins
Club/Meeting Room
Dump Station
Fenced Pet Area
Firewood
Full Hook Up
General Store
View More
Starting at
$18.01

/ night
Starting at
$28.76

/ night
RV Resort Parks in Colorado
Colorado is a popular destination for many people around the country and beyond. Its national parks, scenic views, and sheer majestic nature leave a lasting impression on every visitor. Whether it's hiking one of the scenic trails or taking in the local cuisine in downtown Denver, Rjourney's Colorado RV resorts are a great way to stay during your Colorado adventure. With amenities ranging from shower facilities to hose off at the end of a long day of hiking to pet-friendly properties so your beloved pets can join in on the fun, Rjourney's Colorado campgrounds are a great way to stay.
Types of Campsites in Colorado
We offer a wide range of traditional and unique options at our Colorado RV resorts. We have RV campsites for the seasoned road tripper, tent sites for the classic camper, and lakeside cabins for a high-end stay. We also offer yurts at Dolores River RV Resort. You can even take advantage of a unique opportunity to camp in a covered wagon or tipi.
Things To Do in Colorado
Colorado is home to a large section of the Rocky Mountains and has a wide variety of beautiful landscapes to explore. From mountains to plains, forests to deserts, our Colorado campgrounds have many options for your next adventure.
Colorado Attractions Near Cortez
Our Colorado RV resort of Cortez is located near several great attractions. The crown jewel is Mesa Verde National Park, home to many ancient cliff dwellings. If you plan your trip for August, you could also see the Cortez Annual Balloon Rally. The famous Four Corners monument is only a 45-minute drive away. If you're looking for a longer adventure, Monument Valley is still a manageable two-and-a-half hours away.
Colorado Attractions Near Dolores
Located right on the Dolores River, our Colorado RV resort in Dolores features easy access to the water for fishing. You could also travel along Railroad Avenue to check out scenic Burro Mountain as well as several other peaks in the area. You'll also be near several ancient Pueblo sites in the Canyon of the Ancients.
Colorado Attractions Near Wheat Ridge in Denver
Wheat Ridge is a quiet suburb of Denver, which gives our Applewood RV Resort the perfect spot to explore the city while still being able to get away from the crowds. Downtown Denver is only 20 minutes away so you can experience the local scene. For avid sports fans, there's Mile High Stadium and Coors Field. The Denver Zoo and Botanic Gardens are great for plant and animal lovers. As always, you can take the opportunity to try the local cuisine. And when you're done for the day, you can return to our Colorado RV resort in Wheat Ridge to rest and relax.
Reserve Your Colorado Campsite With Rjourney Today
Whether your Colorado campground is nestled just outside Denver or near the wilderness of the Rocky Mountains, Rjourney is here to help make your next Colorado adventure memorable. Our RV resorts offer both short-term and long-term stays that will fit your schedule and your lifestyle. Let your next adventure begin—book your Colorado stay with Rjourney today!
Sorry no units matched your search criteria.