RV Parks, Cabins & Campgrounds in Wyoming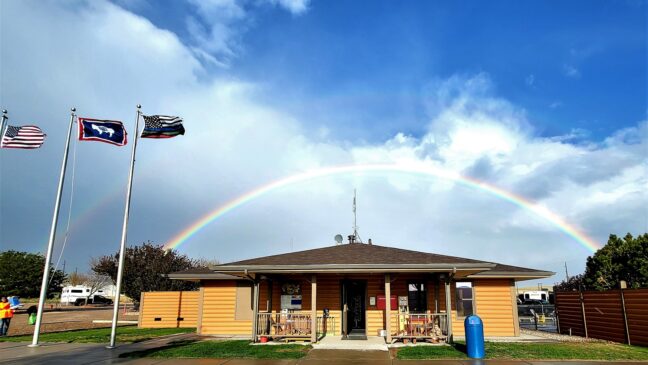 Starting at
$21.13

/ night
Laramie RV Resort in Laramie WY
20-Amp
30-Amp
50-Amp
Back-In
Bathrooms
Big Rig Friendly
Cabins
Clean bath houses
Concrete Pad
Convenience Store
Dog Park
Dump Station
View More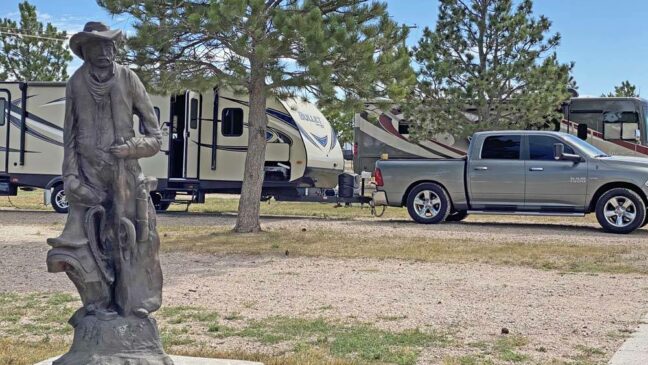 RV Resort Parks in Wyoming
Wyoming is home to over 500,000 residents and is known for its Old West history. With seven famous national parks, mountain peaks, wild rivers, and open plains, this state is a tourist hot spot and draws in visitors from all over the world. When exploring Wyoming, you can expect to run into diverse wildlife, prairie towns, pioneer museums, and the hot springs.
In Wyoming, Rjourney has three RV resorts in the state's southeast corner, just a short distance from Medicine Bow-Routt National Forest and Warbonnet Peak. Our three resort parks contain all you could want for the whole camping experience. Whether it's a pet-friendly campground to bring along your furry friend for a family vacation or an on-site convenience store to purchase any forgotten essentials, the camping opportunities are endless.
Types of Campsites in Wyoming
Our RV resorts can accommodate many types of RV amperages, and you can receive the full hookup or just sewer and water. Although many people are used to bringing their RVs to our resorts, that's not the only way to camp.
If you don't own an RV, stay at one of our fully equipped cabins that include a variety of amenities. Our cabins sleep two to six people and contain half or full bathrooms and kitchens or kitchenettes. You'll feel at home in our cozy cabins that include a patio, fire pit, grill, and picnic table.
When you want the whole camping feel, rent one of our campsites and pitch your tent to experience the joys of sleeping out under the stars while also being surrounded by the comforts of modern society.
Things To Do in Wyoming
When you visit Wyoming, you'll have something for everyone in your family to enjoy. With many national parks, mountains, and wild rivers, there is so much unseen and many things undiscovered. You can hike in Yellowstone National Park, enjoy a relaxing time in Grand Prismatic Springs, or visit the National Elk Refuge. Want to take a break from the outdoors? Visit the Wyoming State Museum or the Cheyenne Depot Museum to learn about the history of Wyoming.
Additionally, visit the Jackson Hole Rodeo and enjoy bull riding, team roping, bareback and saddle bronc racing for great entertainment.
Wyoming Attractions Near Cheyenne 
When you visit Cheyenne, WY, and stay at our Rjourney Cheyenne RV Resort in town, you will never run out of things to do in the area. Once you settle in, visit the Frontier Days Old West Museum or stop by the Cheyenne Rifle and Pistol Club Outdoor Range.
Take a break from hiking the outdoors and look at the Wyoming State Capital or see some Old West artifacts and wildlife mounts at the Messengers Old West Museum.
Wyoming Attractions Near Laramie
When you're not exploring Medicine Bow-Routt National Forest or hiking Sheep Mountain, look at what the city of Laramie offers. When you stay at Laramie RV Resort by Rjourney, you have access to a variety of Laramie landmarks and points of interest, in addition to the best hiking and sightseeing areas.
Visit the Wyoming Territorial Prison State Historic Site or even tour the University of Wyoming. Take a load off and enjoy a day on the Jacoby Golf Course or the Albany County Fairgrounds.
The opportunities are endless when you stay in Laramie, and when you're tired after a long day out and about, kick back and relax at Rjourney Laramie Resort and take advantage of our luxury amenities to ease your stay.
Wyoming Attractions Near Pine Bluffs
Enjoy your time in Pine Bluffs, WY, and stay at Pine Bluffs RV Resort by Rjourney for a variety of ways to stay and all the amenities you need to enjoy for a successful vacation. If you're looking for things to do during your stay, you've come to the right place.
When you aren't golfing at Leaning Rock Golf Course, take a walk through the Texas Trail Museum, or visit the Our Lady of Peace Shrine. After a long day in the city, come back to your campsite at our Rjourney resort, gather around your campfire, or shop at our local convenience store.
Reserve Your Wyoming Campsite With Rjourney Today
At an Rjourney resort in Wyoming, you are a short trip from many of the state's most famous national parks and other sights, so you'll enjoy many days of your stay. Whether you only stay for a few days or many months at a time, we welcome both short-term and long-term stays. 
At our resorts, you will find anything from laundry rooms to WiFi and cable available to accommodate your luxurious stay. Find your Rjourney Wyoming resort today!
Sorry no units matched your search criteria.