Filter by
Spot Type
All Spots

20

RV

16

Lodging

1

Tent

2

Parking

1
Spot Amenities
Sorry no units matched your search criteria.
About Cheyenne RV Resort, LLC in Cheyenne, WY
Cheyenne, WY, Resort Park
When searching for a clean, relaxing place for you and your family to enjoy the great outdoors, look no further than Cheyenne RV Resort. Between our convenient and central location to our wide selection of accommodations and amenities, there's so much to enjoy at Cheyenne RV Park.
Our resort park is located on Hutchins Drive and is easily accessible from I-80. We're situated near many must-see Cheyenne attractions such as Frontier Days Old West Museum, Holliday Park, Medicine Bow National Forest, and more. Plan ahead for your next road trip adventure and learn more about our Cheyenne, WY, resort park or give us a call to make a reservation today!
Cheyenne RV Resort Lodging Options
At Cheyenne RV Resort, we make camping and lodging simple. After a long day of traveling, hiking, and sightseeing, you'll enjoy the convenience of our pull-through RV sites with 30-50 amp service. We also offer premium tent sites for those summer nights you want to spend stargazing. Even if you don't have an RV or tent, you can still visit us and stay in one of our cabins. Getting in late? No worries, we'll be waiting for your arrival with our after-hours check-in services.
Make your RV feel at home by connecting to our WiFi and streaming your favorite shows and movies during your stay. You'll also be able to cuddle up with your furry friends and save money on pet boarding when you bring your pets to our pet-friendly Cheyenne campground.
Need a place to wash clothes without having to leave the campsite? We have a laundry facility equipped with commercial washers and dryers available for use 24/7.
Cheyenne RV Resort Activities and Amenities
You'll get all the amenities you need when you stay at Cheyenne RV Resort. From our on-site convenience store full of snacks and beverages to our community pavilion with cooking grills and microwaves, you'll have easy access to the essentials you'll need.
What's a proper RV Resort Park without fun and exciting activities for the entire family? You'll stay entertained with our selection of activities such as:
Horse Shoes
Heated Swimming Pool (open from May 28- September 7)
Mini Golf
Basketball
And more!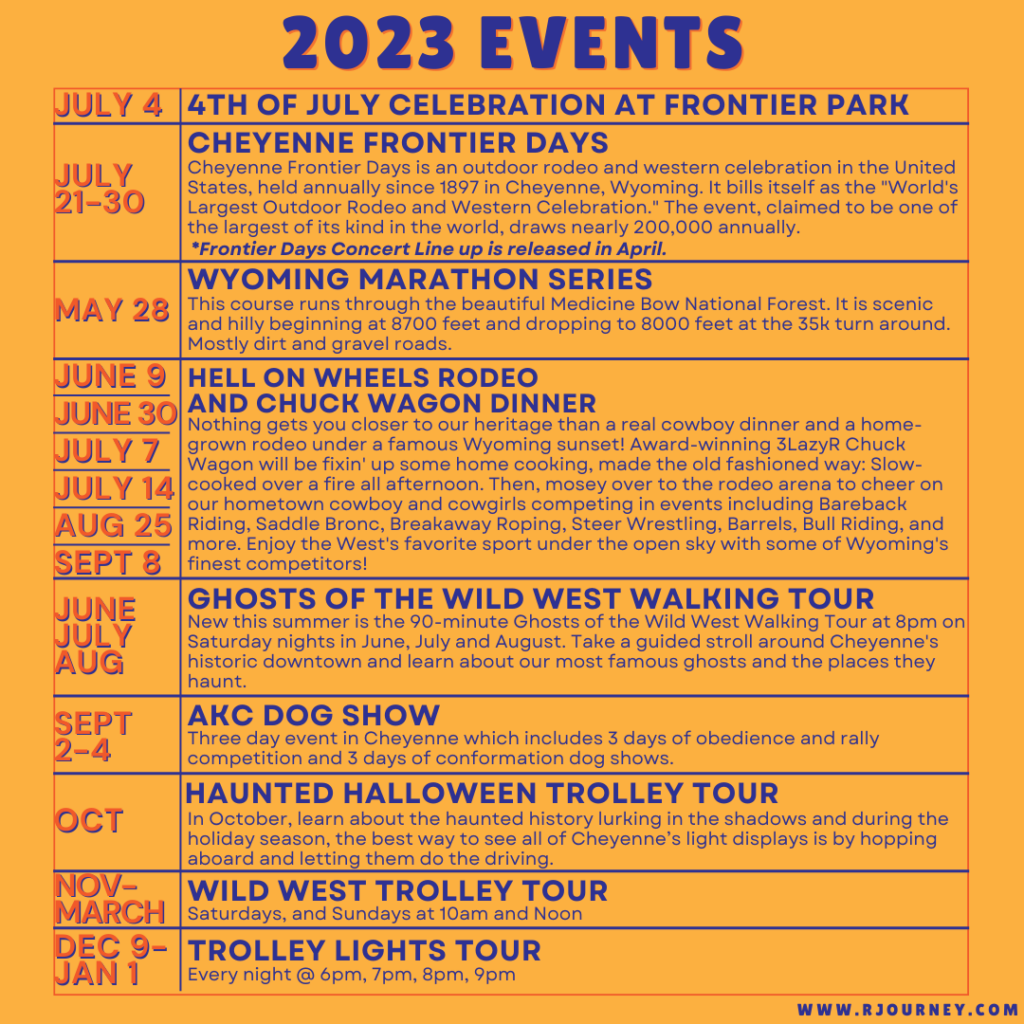 Cheyenne Attractions near Cheyenne RV Resort
While it might be tempting, we don't want you to spend all of your time in your trailer; there's a ton to explore all throughout Cheyenne. From the breathtaking views at the Botanical Gardens in Frontier Park to the relaxing horse-drawn buggy tours, family fun is just around the corner.
If you're visiting during the last full week of July, you won't want to miss Cheyenne Frontier Days. This festival celebrates Cheyennee's Western culture featuring the largest outdoor rodeo, a wild horse race, dancing, an art show, and more!
Other nearby attractions include:
Book Your Next Cheyenne Adventure at Cheyenne RV Resort
Whether you're embarking on a solo trip or a trip with your family, you'll find the adventure you're seeking at Cheyenne RV Resort. With plenty of local attractions, on-site activities, and convenient amenities, you'll love exploring everything our resort park and surrounding area has to offer. Don't delay, book your Cheyenne vacation and give us a call today!
Please note that while certain sites and/or cabins may be listed as ADA accessible, the whole RV resort (e.g. public bath house, playground) may not be fully ADA-compliant, please call us to make sure we meet your needs before making reservations
Best RV Vacation Spots in Wyoming
Best RV Parks in Wyoming
RV Camping Amenities in Wyoming
Camping Spot Types in Wyoming
Policies
Good Health Advisory
Amenities
20-Amp
30-Amp
50-Amp
Basketball court
Bathrooms
Cabins
Convenience Store
Dump Station
Fenced Pet Area
Firepit
Firewood
Full Hook Up
Kitchenette
Laundry
Mini-Golf
Pavilion
Pet Friendly
Playground
Propane Sales
Pull-Through
Sewer Hook Up
Showers
Swimming pool
Water Hook Up
Wi-Fi
Facility Activities
Basketball
Horseshoes
Mini Golf
Playground
Swimming
Nearby Activities
Canoeing
Golfing
Hiking/Nature Trails
Historic Sites
Museums
Restaurants/Dining
State Parks
Wildlife Viewing