Preparing for a Long-Term Stay at an RV Resort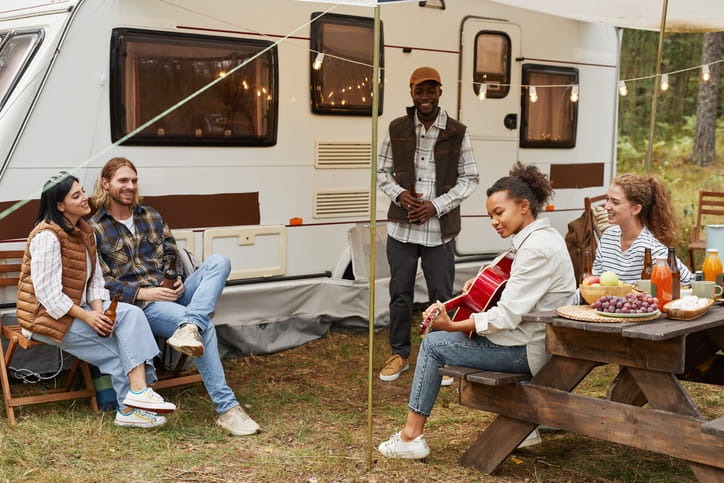 Every RV owner knows there's nothing quite like hitting the open roads and exploring the many beautiful parks, nature preserves, and scenic views along the interstate as you cross the country. If you're like us, you never want that trip to end once you get started, which is why long-term stay RV parks have become a popular option for many travelers across the country.
If you've been thinking about adopting the nomadic lifestyle and living in an RV, there is a lot of planning that must be done to ensure your trip is a smooth and successful experience. Explore this guide from RJourney to learn some helpful tips to help you prepare for your long-term stay at an RV resort!
Budgeting
One of the first steps in planning a long-term RV trip of any kind is to create a budget. It's easy for the expenses to rack up quickly when taking your recreational vehicle out into the big wide world, so it's best to plan ahead so you have enough to cover necessities like RV upkeep, gas, food, campsite fees, activities, and more. Luckily, there are plenty of resources out there, such as the budgeting app Mint, to help you track your expenses and set aside the savings you need before living in an RV long term.
Prepare Your RV
After creating your budget, you'll want to make sure that your RV is in working order so it can stand up to the rigors of long trips and extended stays. General preventive maintenance is a must if you plan on making an extended stay in your RV, so you'll want to make appointments or learn how to change the oil and filter, get tires aired up or changed out, check antifreeze levels, replace spark plugs, and any maintenance your specific RV calls for.
Your RV's battery is one of the most critical parts of the vehicle, making it necessary to routinely check its health and charge levels so you aren't left with a drained battery when you need it the most. Even if your campsite comes with electrical hookups, your RV will often rely on the battery to supply extra juice to keep everything running. You never know when a power outage may occur; play it safe, keep your battery in good shape, and acquire a portable generator if possible.
Know What To Pack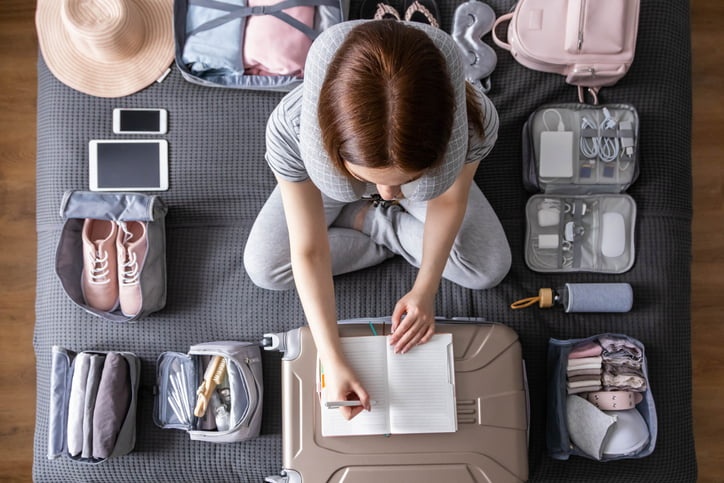 When you're away from home for weeks (or months) at a time, it can be incredibly difficult to know what to pack. When living at a campground long term, it's important to strategically plan out the supplies, materials, tools, and clothing items you are going to bring with you, especially if your stay will be spanning multiple seasons.
Living in an RV means walking the fine line between comfort and clutter, as you will have very strict space restrictions to work with. While you don't want to underpack and wind up being unprepared for your trip, you also want to restrict what you bring so you aren't feeling cramped in your mobile living quarters. You will want to create a master packing list that identifies essential items that will cover your needs in any situation, with categories including:
Clothing and shoes
Kitchen and cooking supplies
Toiletries
Personal items
Hobby, entertainment, and craft supplies
First aid and emergency kits
Basic tools for simple repairs or maintenance, such as a wrench or drill
RV support supplies, including leveling blocks, jumper cables, extra fuses, and a backup generator
It's always best to err on the side of caution and pack so you have options for any scenario that comes your way, whether it's battling the weather or issues that arise with your RV. Making an extensive packing list will ensure that you have everything you need and nothing gets left behind before you head out on your extended trip.
Organize Your Space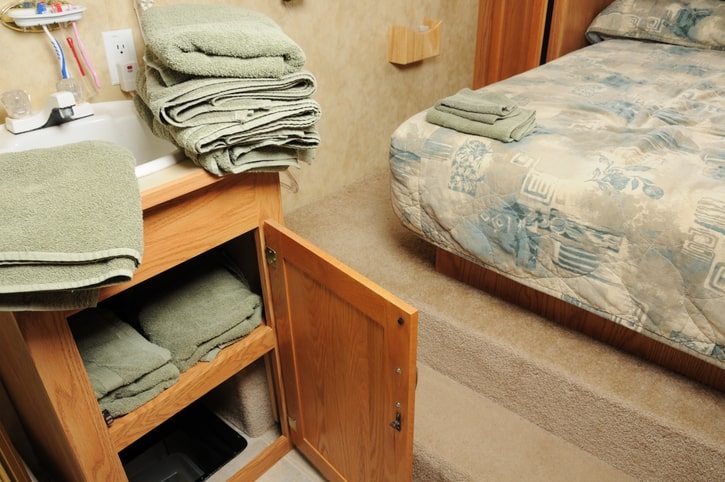 With the limited storage options you have available, it's important to utilize every inch of what you have. Compression is key when finding ways to put more items in less space, making vacuum-sealable bags a valuable asset when storing things like bulky seasonal clothing or spare blankets. Utilize plastic tubs to keep items of similar use together, and tension rods can be used in pantries or cabinets to keep spices, cleaning supplies, and other smaller, loose items organized and prevent them from sliding around when moving your RV.
The key to a smooth RV-living experience is organization. Don't be afraid to try different systems to find what works best for you.
Ventilate the Interior To Avoid Moisture Buildup
If you are planning on putting down roots in a long-term stay RV park in Louisiana, Texas, or anywhere else with high levels of humidity, you want to make sure your vehicle is adequately prepared. RVs are notorious for accumulating moisture, especially when the humidity is high or if damp items are left inside the cabin during the winter.
Keeping moisture buildup to a minimum in the cabin of your RV is critical to avoiding mold and keeping areas smelling fresh. Removing damp towels, emptying sinks, and immediately wiping up any spills that occur are easy ways to keep moisture levels low. You can utilize canisters of moisture absorbers in small, enclosed areas where water can build up easily such as underneath sinks, in closets, and in storage compartments. Running a dehumidifier during the daytime can also help keep moisture levels at a minimum. Not only are these good practices for upkeep while you are living in your RV, but they are also great tips for preparing your vehicle for long-term storage after your trip is over.
Final Step: Enjoy Your Stay!
After all of the prep work that you put into your long-term RV living experience, you deserve to kick back and enjoy the fruits of your labor! If you're staying in a long-term RV park, it's always a good idea to explore and get to know the surrounding areas so you know where to find food, entertainment, supplies, and more. We also recommend finding ways to interact with other people in the community, whether it's through activities in the RV park or inviting your neighboring RV crew to dinner around your fire pit. Making friends in your new home only makes your experience better.
If you've been looking for a destination for your next long-term RV adventure, check out one of the many RJourney RV resorts across the country! Our affordable campsites are filled with premium amenities and comfortable living arrangements, and our friendly camp staff members will always do their best to give you the best experience possible. Give us a call to find out more or check on availability today!
More From