Perfect Meals To Make Over a Campfire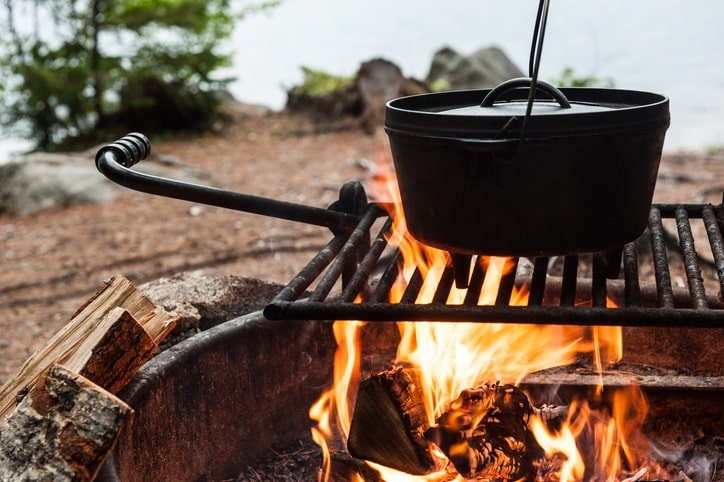 When you think of camping meals, you probably think of weenie roasts and s'mores. While those are delicious and quintessential summer camping meals, you have far more campfire cooking options than you may think! With tools like Dutch ovens, skillets, and a few good recipes from your friends at RJourney, you can turn any campfire meal into a gourmet experience every time you explore the outdoors.
Whether you're a backwoods pro, RV camping enthusiast, or you prefer the creature comforts of a cabin, we've got your back with our favorite campfire recipes. Discover your next favorite taste sensation with us below.
How To Meal Plan for Group Camping
Before we dive into our delicious recipes, you should keep meal planning in mind for your trip. Like camping itself, meal planning takes time, effort, and attention to detail. Unless you're camping on your own, you'll need to consider the other people in your group when deciding on meals.
In addition to packing enough ingredients to cook for everyone, check with your fellow campers about their food preferences or any potential allergies. You don't want to put a damper on the trip with hungry, picky eaters or allergic reactions. If you're not sure how to plan camping meals, we've got you covered with our handy guide for meal planning.
No-Cook Campfire Meals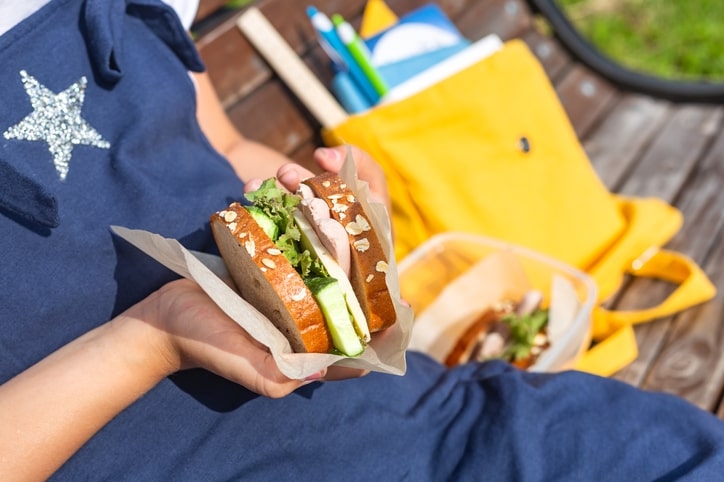 If you're traveling light, camping overnight, or just don't want to deal with standing over a hot fire in the summer, these no-cook camping meals are for you! Oats, peanut butter, chocolate, and other nonperishable ingredients are a camper's best friend. Before you spend the whole trip surviving off trail mix, however, explore these easy no-cook meals:
Skillet and Dutch Oven Recipes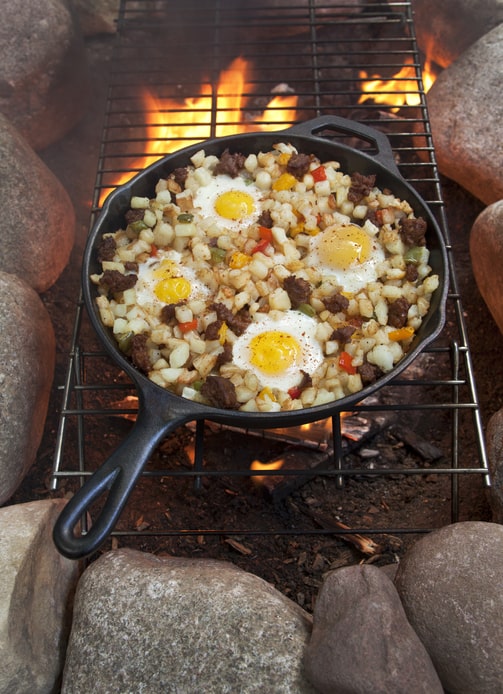 Prefer the full-blown camping experience? Then our cast-iron skillet and Dutch oven recipes are right for you! Enjoy breathing in the aroma of your campfire meal as it cooks when you choose fire recipes like skillet eggs and hash browns or skillet cornbread! Other campfire cooking recipes we love include:
One-Skillet Pasta Primavera: Craving some Italian after exploring the woods? We've got you covered with this filling, flavorful dish.
Skillet Huevos Rancheros: Enjoy breakfast with a kick! Wake up your taste buds in the morning with a cup of coffee and some skillet-cooked eggs.
Shepherd's Pie: A tried-and-true classic, shepherd's pie will stick to your ribs and give you the extra burst of energy and flavor you need to refuel for your next adventure.
Cowboy Stew: It may not be the prettiest dish, but cowboy stew is bursting with flavors! Throw everything into your Dutch oven and watch the magic bubble up as beef, beans, and potatoes become a mouthwatering dish.
Campfire Cooking Dos and Don'ts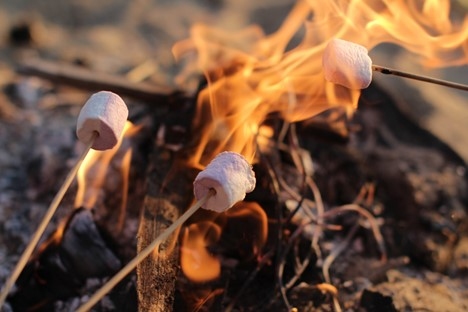 Whether you prefer camping in a tent or under the roof of a cabin, cooking is a special time for bonding, singing songs, and making memories. When you enjoy campfire cooking, however, don't forget a few dos and don'ts to keep yourself safe and stress-free:
Do: Pack the Right Tools and Equipment
If you want to try our campfire meals, make sure to bring the right gear for them. A tripod cooking stand is a must-have for any camping adventure, as it provides a space to prep and cook if your site doesn't have a picnic table. Prefer your meat to have a little sear on it before putting it in your stew or skillet? Ditch the long, pointy sticks and grab the grill gate for pro cooking skills. Other tools you'll need for the recipes above include:
Dutch oven
Cast-iron skillet
Cooking oil (varies based on recipe)
Tongs
Cooking knives
Thermometer
Seasoning
Oven mitts
The right firewood
Feeling a little overwhelmed? No need to fear. We can help you dive deeper into meal planning before your trip.
Don't: Ignore Basic Fire Safety and Food Storage Rules
No matter how excited you are about campfire cooking, don't lose sight of being a responsible camper. If you don't properly put out your campfire, or if you store your food too close to your campsite, you find yourself in a dangerous situation. If you plan to stay in a cabin or RV, food storage may be as much of a concern, but always remember to completely put out your fire or shut off your gas or electric stove.
Discover the Outdoors With RJourney
Now it's time to go out and try those delicious campfire meals! When you're ready to hit the trails and test your cooking skills, RJourney's RV resorts are a perfect place to do it. Whether you prefer renting a cabin or you want to try RV camping, RJourney can help you create an unforgettable camping (and cooking) experience. Explore our locations and start planning your stay today!
More From