Planning Meals for Your Camping Trip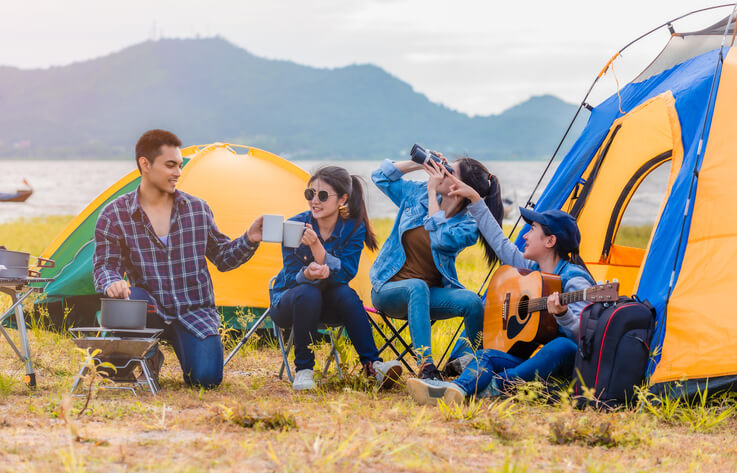 Getting ready for a camping trip is exciting, but it also requires a lot of preparation. One key to a successful, stress-free camping trip is planning your meals and having enough for everyone in your party without overdoing it. Whether you plan to pitch a tent, travel in your RV, or rent a cabin, you will want to have a plan for what you will eat and how you will cook it. No need to worry though, RJourney has some tips to share on the best camping meals and what food and equipment to pack for your next camping trip.
Meal Planning for Group Camping
You may already have your daily favorite foods that you enjoy cooking, but when camping, you might have to mix up your menu. When meal planning for group camping you will want to prepare easy meals that the masses will enjoy. The simple way to go about your meal planning is to jot down any meal ideas as a group. This way you can vote on the dishes that everyone would be willing to eat, determine which ingredients you'll need, and what food can be prepared for multiple meals.
First organize your list by breakfast, lunch, and dinner. Depending on how long you plan to camp, you can then add your ideas to a meal planning calendar. Once you have a plan for your camping meals, you can run it by the rest of your group to make sure everyone else is on the same page.
You will want to visit the grocery store before you embark on your adventure, and you may also find some recipes that you can prepare ahead of time. While at the store, don't forget to pick up reusable, camping-friendly utensils, bowls, plates, and cups. Keep your ingredients easy to prepare so that when dinner time comes, you won't have to stress.
Best Camping Meals
The best camping meals are the ones that taste great but are simple to make. Everyone enjoys a hot meal near the campfire, but don't forget that dry food can also be a nutritious meal or snack. Consider packing cereal, oats, bread, crackers, nuts, dried fruit, and even jerky to keep you full. Not only can these be used for a yummy snack during the day, but they can also be used as ingredients for other meals.
Great meals to prepare when camping are sandwiches and wraps. These can be made for any meal of the day and can be served cold or warm. Also, explore what pasta and soup recipes sound the most delicious to you and your group. Not only can soup and pasta be prepared with just a few ingredients, it is easy to make a lot of it when with a group.
A plus to camping in an RV or cabin near a store is that you can pick up any food or supplies you forgot to pack. However, if you are in a tent, your options may be limited. The good thing is that if you camp at an RJourney park, we have convenience stores on site so you can stock up on essentials without having to drive too far from camp. 
Campfire Cooking
Whether you are in a tent or have a cabin, it's always fun to make some yummy s'mores or hotdogs around a campfire, however, there are lots of other ways to do campfire cooking. If you are in an RV or cabin, you are probably lucky enough to have some sort of stove, oven, or microwave. However, if you are traditionally camping in a tent, it is not always easy to spark a fire for every meal. When you plan to cook over a campfire, there are some great tools and equipment you should pack. Having a tripod cooking stand is a simpler way to make your meals, or bringing a campfire grill gate will make the process easier when campfire cooking. Also, utilize a dutch oven or a cast-iron skillet that is safe for open fires. 
When you and your group aren't interested in building a campfire, gas camping stoves are a great solution. Not only will this be simple to use, but it's also a lot quicker to prepare your food. Camping gas stoves are more likely to warm up with a match or lighter no matter the weather, whereas starting a campfire may not be as easy if the weather doesn't agree.
How to Properly Store Food
Something you won't want to ignore is where you will keep your food when you don't need it. When camping, you want to store your food properly so unwanted creatures and animals don't create a feast of their own.
When it comes to non-perishable foods, it is best to store them in plastic bags that are sealed to protect against any scents. Just as you would keep any bags or cans closed at home, you definitely want to do the same while camping. With your items that need to be kept cold, and you don't have a refrigerator, you will want a tightly sealed cooler and ice packs. In addition to plastic bags and a cooler, you can always pick up some bear-proof containers to store your food, especially if you're camping in a region where bears are likely.
Always be sure to pick up any food off of the ground around your campsite just to be sure an animal doesn't find its way to you. Also, keep your trash in scent-free containers and bags until you find somewhere to dump it. However, if you're staying at a RJourney resort, we have plenty of dumpsters and trash receptacles available throughout our campgrounds. Just ask our friendly staff to direct you to the best place to throw away your trash.
Camp with RJourney
Now that you have done your meal planning for group camping and picked out some of the best camping meals, it is time to start exploring. Whether in a tent or RV, RJourney has some great RV resorts to choose from with lots of amenities to make your trip the very best it can be. From cabin rentals to RV camping, RJourney is here to make your camping experience enjoyable. Check out our locations today to plan a visit with us!
More From