Seven RV Camping Tips and Tricks for Travelers on a Budget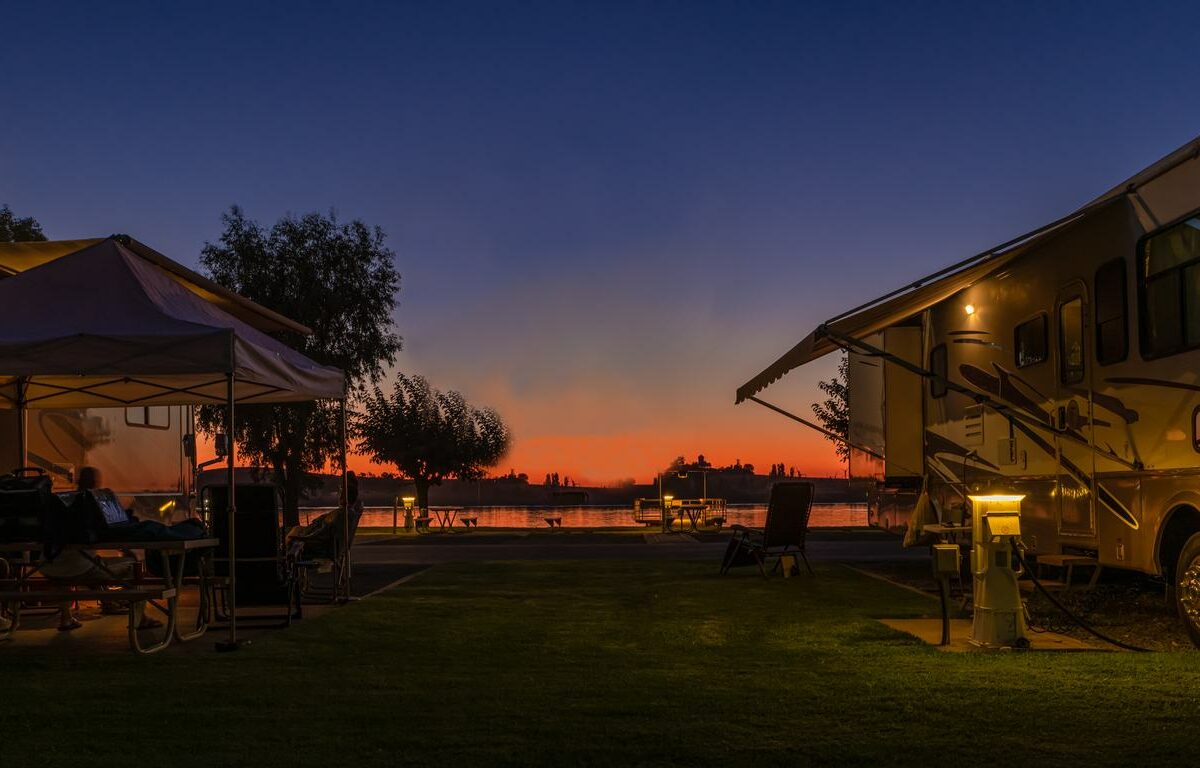 An important part of planning your vacation is setting a realistic budget, but that shouldn't stop you from having fun! With fuel prices on the rise, finding cost-effective ways to enjoy your budget RV journey is more important than ever. From sticking close to home to thrifting essential gear, there are many ways to minimize your costs on your next trip.
These tips will explore how you can keep your upcoming RV camping trip low on your budget but high in entertainment and how the storage experts at Rjourney RV Resorts can help you along the way.
1. Choose Budget-Friendly Destination
The first step in planning a cheap RV trip is to start by selecting destinations that are closer to home. This will not only save you money on fuel but also reduce travel time, allowing you to spend more time enjoying the destination itself. Research state parks, national forests, or local campgrounds near you that offer affordable rates for RV campers. 
Rjourney's affordable RV resorts are a great choice for those looking to get the most out of their dollar. With available discounts and extended rates, you can find the right campground for you and your family without breaking the bank. You can plan a trip closer to home to save even more on gas.
2. Plan a Fuel-Saving Route
Avoid congested highways and consider taking scenic routes that offer a more enjoyable journey. Efficient route planning can significantly impact your fuel expenses. Use navigation apps or websites designed for RVs to find the shortest and most fuel-efficient routes.
To mitigate rising fuel costs, ensure your RV is in tip-top shape. Regular maintenance, such as engine tune-ups, oil changes, and tire checks, can improve fuel efficiency. Also, drive conservatively by maintaining a steady speed and avoiding excessive idling.
3. Pack Smart and Pack Light
Overpacking can increase fuel consumption. Prioritize essential items and pack them efficiently to increase your mileage and save space inside your vehicle. Additionally, consider leaving heavy gear at home or investing in lightweight camping equipment. This not only reduces the weight of your RV but also saves you money on gas. Remember, you don't have to bring everything!
4. Thrift Your Low-Budget Camping Gear
Buying brand new camping gear can be expensive and take up needed space. Instead, explore thrift stores, garage sales, and online marketplaces for gently used or discounted camping equipment. You'll be surprised at the quality items you can find at a fraction of the cost.
5. Cook Your Meals
Eating out every day can quickly drain your budget. Utilize the kitchen facilities in your RV to prepare meals. Stock up on groceries before your trip, and enjoy delicious, cost-effective homemade meals while on the road. Cooking outdoors can be a fun and memorable experience too for you and your family, so embrace it!
6. Travel During Off-Peak Seasons
Consider planning your RV camping trip during the off-seasons. Campground fees are often lower, and you'll have more flexibility with reservations. Plus, you'll avoid the crowds, making for a more peaceful and enjoyable experience.
7. Utilize Campground Amenities
Choose campgrounds that offer a variety of amenities, as this can help you save on costs related to maintaining your RV and make for an overall comfortable time. All of Rjourney's RV resorts are well-equipped with the amenities and tools you need to enjoy your vacation to the fullest. From the bare necessities of showers, laundry rooms, and wireless internet, to special wine tours and fishing excursions, we are ready to help you have a vacation you'll always remember.
Save Money as You Spend Time Outdoors
By following these budget-friendly tips, you'll be able to explore new destinations, enjoy the outdoors with your loved ones, and do it all without breaking the bank. Remember, RV camping on a budget is all about smart planning, resourcefulness, and embracing the simple pleasures of the road. Start your next trip at an RV resort from the experts in affordable hospitality and life-long memories. Find an Rjourney location near you to plan your vacation today!
More From