Best Small RV Upgrades To Tackle In the Offseason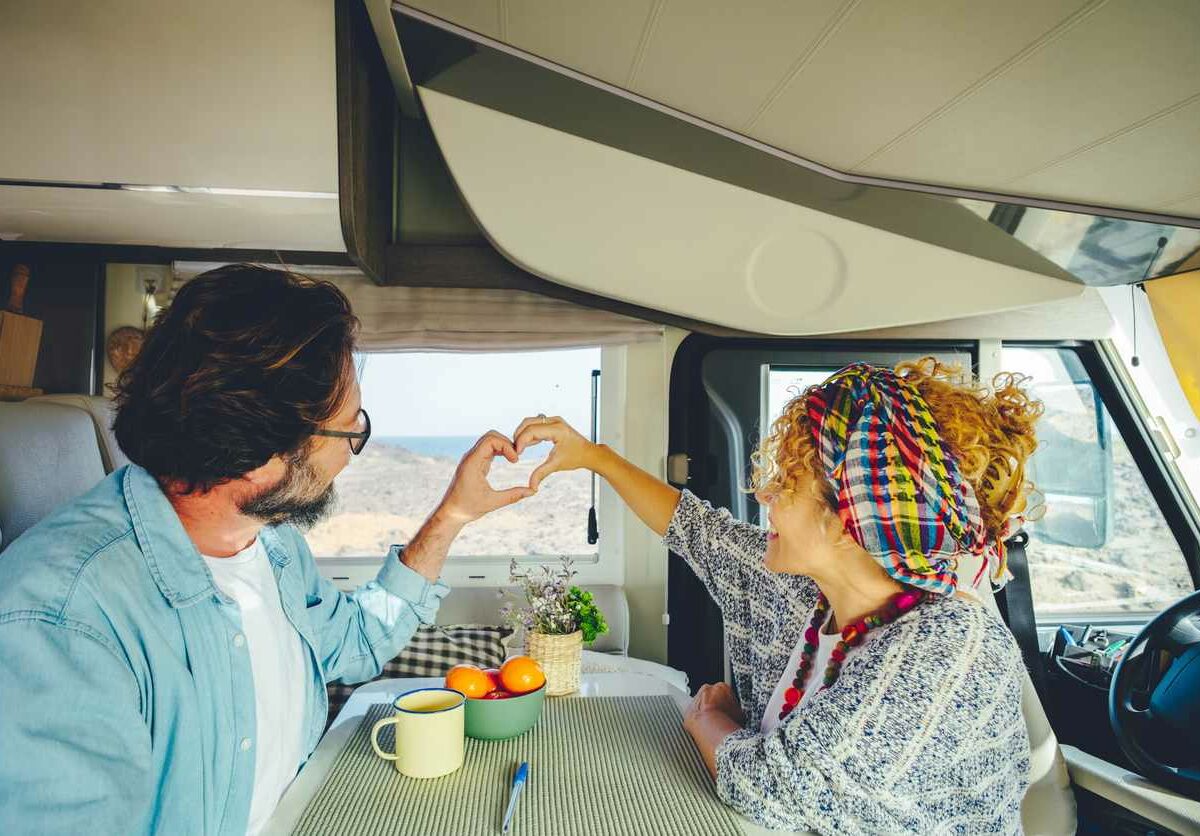 The offseason may not be your favorite time of the year, but that doesn't mean your RV has to sit untouched until the weather warms once again. In fact, this can be an opportunity to start some of the best RV upgrades, as you have ample time to finish projects before you'll be hitting the road with your RV. When it comes to making luxury upgrades, the offseason is the ideal chance to cross items off your to-do list. Kickstart your projects with these tips and tricks from the experts at Rjourney today!
The Best RV Upgrades
As you look around your RV, do you see spots that could be improved? Does your RV interior feel outdated? There are several different ways you can upgrade your RV to improve your future camping experience.
Even small upgrades can make a big difference to your outdoor adventures this year. If you need inspiration, we've assembled a list of ideas to help get you started with your offseason RV upgrades.
RV Entertainment System Upgrade
Your RV entertainment system might be ready for newer and fancier parts. After all, what's wrong with having a good show to watch at the end of a long, exciting day in nature? That's part of the luxurious RV lifestyle, where you get to bring together the best of both worlds for a peaceful camping experience with some of the comforts of modern living.
Your RV entertainment system probably consists of several parts: speakers, stereo, TV, and maybe even a gaming console. This is a great place to start your offseason RV upgrade project. Even swapping out one part with something newer can make a significant difference to the overall quality.
RV Speaker Upgrade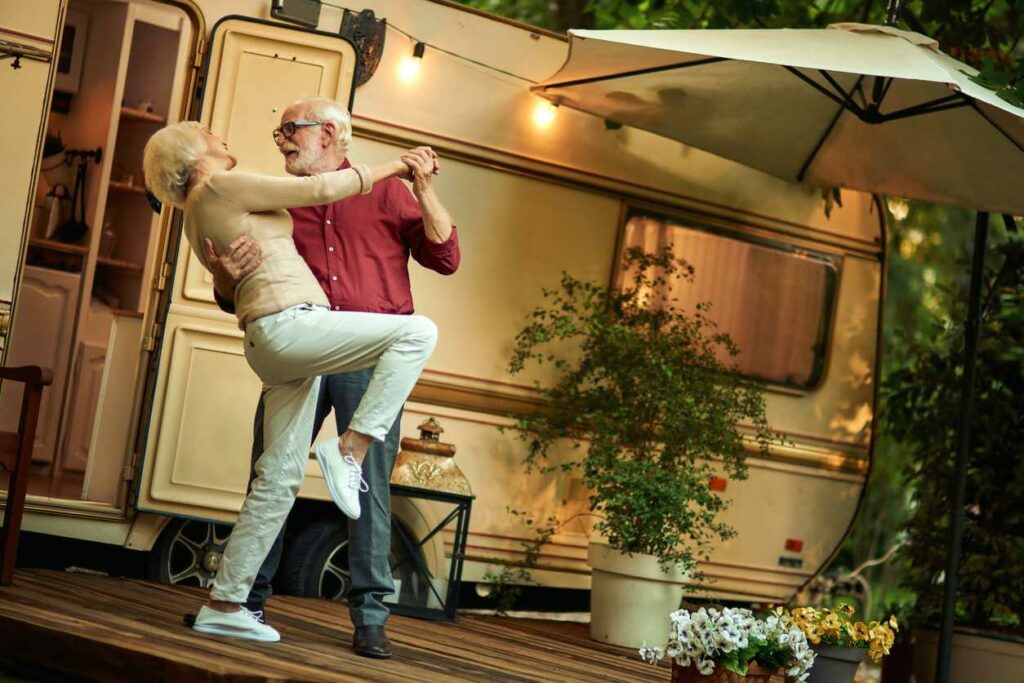 The stock speakers your RV came with might not be producing the best quality sound, whether that's your interior or your exterior. Fortunately, speakers can be easy to replace.
First, refer to your owner's manual to determine the size of speakers your RV accommodates. The standard size ranges from four inches to six and a half inches, but verify the exact size before making any purchases.
If you're looking for outdoor RV speaker replacements, stick to marine speakers. Marine speakers can work for boats, RVs, and general outdoor installments due to their waterproof nature, keeping you worry-free during those rainy days.
Alternatively, flush wall speakers are better for indoor RV speaker replacements. You'll need to get the correct number of speakers, so pay attention to the number of speakers that are being sold. Some sell in pairs, while others are sold in singles.
RV Stereo Upgrades
Having the right stereo in your RV can also make a major difference in the quality of your audio. A good stereo makes it easier to manage your music and your overall speaker system, especially if it has Bluetooth capabilities. Plus, with an RV radio upgrade, you can have a better time flipping through stations when you're looking for good music or local news updates.
Once again, be sure to find the right size, but also get a stereo with the right amount of power for your setup. One with two-zone, four-speaker output is going to perform differently than one with a three-zone, eight-speaker output.
RV TV Upgrade
Depending on the year your RV was manufactured, your current TV might be more than ready for an upgrade. The good news is that you can install just about any TV in your RV. You don't need a specific brand or one built specifically for RVs.
However, you do need to decide between a 12-volt TV and a 120-volt TV. A 12-volt will run off of your RV's battery, but a 120-volt TV will need an inverter or to be connected to an additional power source.
To decide, reflect on your personal camping style. If you're a boondocker, a 12-volt TV is generally better. However, if you prefer visiting designated campsites with electric hookups, you can opt for the 120-volt TV for your RV. Keep in mind that 120 is the standard voltage for most televisions, so you may have a wider variety of options available.
RV Bathroom Upgrade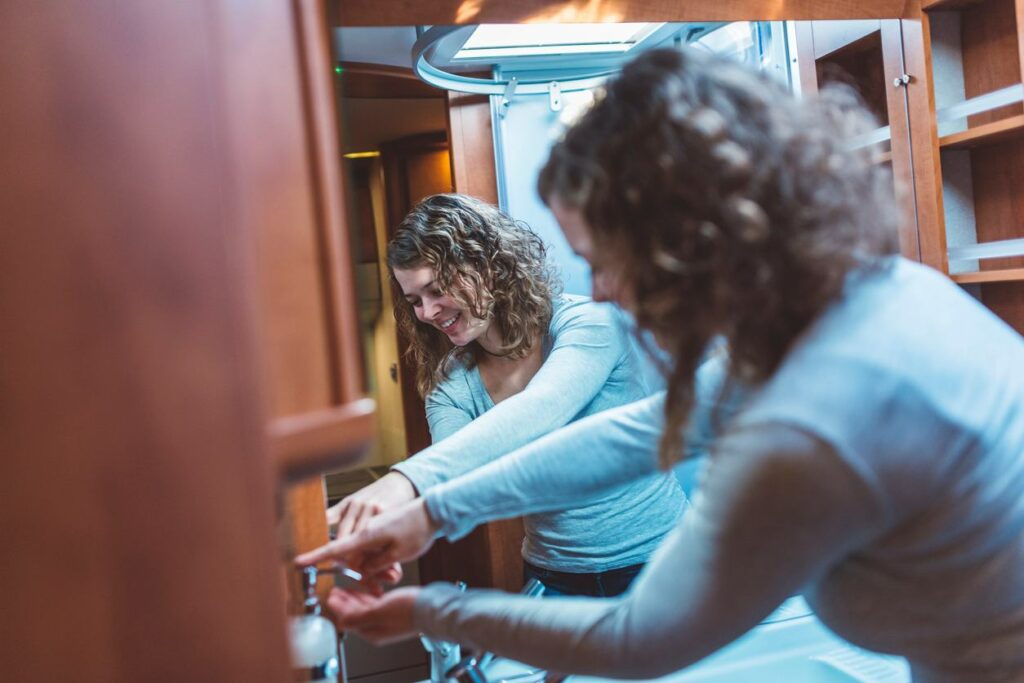 There are all sorts of parts to your bathroom that you can swap out. The sink and faucet are easy upgrades to make, especially if your RV came with a small plastic pedestal sink in the bathroom. Instead, if your RV has the space, upgrade your RV's bathroom sink with a bath vanity. You'll get to enjoy more counter space with added storage underneath.
You can also do an RV showerhead upgrade. We recommend selecting a showerhead with high pressure to remain conscious of your water usage while still enjoying a pleasant shower.
Is your RV shower too small? Tired of feeling the curtain cling to your skin while you're trying to rinse off the outdoor muck and grime? Consider a curved shower curtain rod. Unlike a straight rod, this will help add a little space to your shower without heavily impacting the rest of your RV's bathroom. 
RV Interior Lights Upgrade
If you're not familiar with the benefits of LED lighting in your RV, now is the time to expand your knowledge and implement changes. These lights last longer and are more efficient than standard lighting. Plus, they're brighter than incandescent or halogen lights, creating a well-lit space that may have felt a tinge too dark otherwise.
Start Planning Your Next Adventure
With a freshly upgraded RV, we have no doubt you're as eager as ever to set out toward your next destination. You'll want to try out all of your new advancements as soon as possible, so why not start planning now?
Rjourney RV resorts can provide you with the most memorable camping trip. With many of our RV resorts located near top destinations in several states, you can stay close to national parks, state monuments, or great fishing spots.
Furthermore, our resorts often feature some of your favorite amenities, including on-site convenience stores, laundry rooms, cable and WiFi, pet-friendly spaces, and more.
Locate your nearest resort or contact us to reserve your future RV campsite today!
More From