Planning a Road Trip with Pets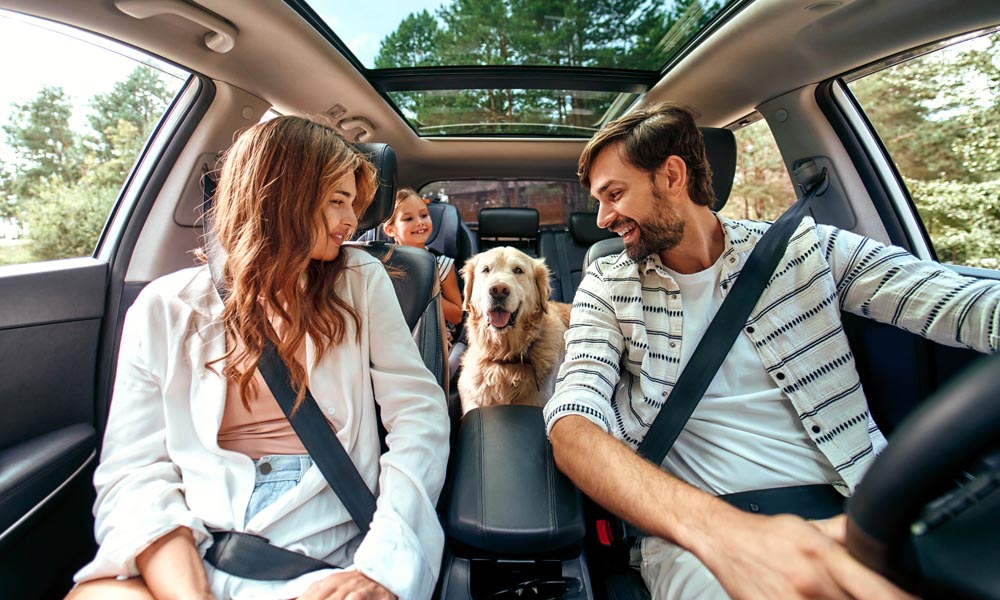 Furry friends are always up for a fun adventure—especially ones that involve the beloved car ride. However, taking your pet along on a road trip can be a daunting task if you don't plan adequately. A successful vacation with your pets starts with preparing a safe and fun trip they can enjoy, too. RJourney is here to help you with tips and tricks you can use before you embark (pun intended) on your journey.
Should I travel with my pet?
Pets are like children to their owners, who love and care for them just like they would for their own kids. However, your pet might not be the ideal travel companion. Cat and dog owners are able to travel easily with carriers that are made for traveling on the road, while other pet owners may not have this luxury.
Traveling with your pet is up to your discretion, but you should only travel with your pet with right preparation. Leave your pet at home if you know it will be uncomfortable or hard for you to take care of them during your trip.
Before loading your pet up for your road trip, it's also important to confirm that your pet will be welcome. There are plenty of resorts and hotels that allow cats and dogs, however, you might be hard-pressed to find a place that will allow your pet ferret.
Prepare for Traveling with Your Pet
Before taking your pet along on a road trip, make sure your pet is comfortable with long car rides. Not all pets are equipped for long journeys without preparation. One way to train your pet is to frequently take them on car rides before the trip. This allows them to familiarize themselves with your car. Next, start taking them on longer trips. If you're a dog owner, we suggest visiting a dog park that is an hour or so away from where you live. This will allow your dog to become accustomed to long car journeys.
Don't forget to pack all of your pet's essentials. This includes, but is not limited to:
Food, water, and treats
Bed and/or blankets
Travel carrier or crate
Leash, harness, and collar
Favorite toys
Waste bags or portable litter box
We suggest creating a list of things your pet will need, just like you would for yourself. Staying organized will create peace of mind through your planning journey.
Pet Safety
When preparing to travel with your furry friend, you always want to ensure you can travel with them safely. Pets are adventurous and curious, which is why it is important to always be with them when you're traveling—especially when you're traveling outdoors or camping. If you're traveling with your dog or cat, be sure to leash them on any outdoor activities. Even if your bed listens well, your pet runs the risk of meeting a dangerous animal or wondering away from you while exploring their new surroundings.
One way to avoid losing your pet is microchipping. Microchipping is safe, sterile, and quick, becoming a standard practice for veterinarians. One benefit is that microchips are permanent, so your pet will only have to have the procedure once. If your pet is not currently microchipped, then speak with your veterinarian about getting them chipped before you take them on your trip. Taking these precautions will allow for stress-free fun along the trip.
When deciding a location to vacation with your pet, we suggest making a list of pet-friendly activities so you can spend as much time as possible with them. Here are some fun, affordable activities to do with your pet:
Dog parks
Walking trails
Hiking in National Parks
Pet-friendly beaches
Pet-friendly cafes and restaurants
Outdoor shopping
Always research the places you put on your itinerary first to make sure they are pet-friendly. Some prohibit certain animals and breeds, so it is important to check beforehand especially if you're plotting vacation ideas to travel with your dog.
Top Destinations to Travel with Pets
There are many places to take your pet while traveling. Here at RJourney, we recommend our pet-friendly campgrounds, including Coconut Cove and Lake Conroe. These are great destinations for your family and pets, especially if you're traveling by RV. Coconut Grove even has a dog park for your furry friend to run around and play.
Our Kenanna location is another pet-friendly location, which is located in Washington, which is considered the most pet-friendly state by SafeWise. This location is near other fun outdoor locations, such as the Seashore Conservation Area and Grayland Beach State Park. Both parks also allow pets but at their own discretion.
Other pet-friendly states mentioned by SafeWise were Oregon, California, Vermont, Maine, Pennsylvania, Tennessee, Indiana, Illinois, and Florida.
Pet-friendly Adventures with RJourney
Now that you have a better understanding of how to plan a safe and fun trip with your pet, you can start putting a full itinerary together. If you're planning on camping or taking RV road trip, let RJourney assist you with your travels. With many resorts to choose from, we offer an abundance of amenities and fun activities to make your experience even more enjoyable. Browse our locations today to plan a visit with us!
More From